Tortoise, 90, fitted with wheels following rat attack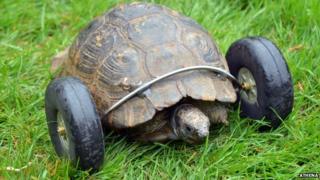 A Pembrokeshire tortoise which had part of its legs chewed off by a rat has been fitted with wheels.
The 90-year-old tortoise, called Mrs T, had been placed in a garden shed to hibernate when the rodent attacked.
Owner, Jude Ryder, ran up a £1,000 vets bill before turning to her mechanical engineer son Dale, 37, for help.
He used the wheels from a toy plane and designed an axle which he fitted to the tortoise's shell using resin.
Ms Ryder said: "We were afraid she may have to be put down but her new set of wheels have saved her life.
"She took to her new wheels straight away but she has had to learn how to turn and stop.
"She can get a good speed up, much faster than before."
Dale's partner Linzi James had found the reptile on her lawn with injuries to her two front legs after the attack earlier this month.