Fly-tippers dump waste at Pembrokeshire Coast National Park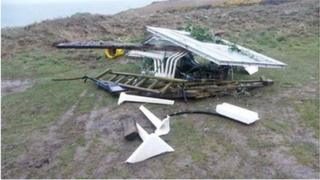 Waste, some of it hazardous, has been found dumped at two sites within Pembrokeshire Coast National Park.
Items including a freezer and window frames were abandoned at car parks at St Govan's and Stack Rocks.
National park workers spent 12 hours removing the waste, some of which required staff to wear protective clothing to dispose of it.
Dyfed-Powys Police and Pembrokeshire council's environmental health department have been informed.
Fly-tipping is illegal and offenders could be fined up to £50,000 or a receive a prison sentence.