Carmarthen veterans home plan will not go ahead despite appeal win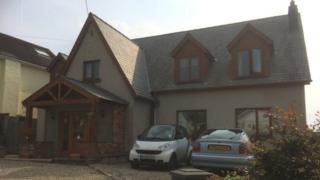 A charity that won an appeal to convert a residential property in Carmarthen into a home for armed forces veterans says it has decided not to go ahead.
Carmarthenshire council rejected the plans last September amid concerns raised by locals over community safety.
Permission has now been granted with conditions attached.
But Alabare Christian Care said the "exceptional negativity" of some neighbours meant it would no longer be buying the property.
The Christian charity had hoped to provide accommodation in Carmarthen for those who were homeless, had alcohol or drug problems or mental health issues.
Its chief executive, Andrew Lord, said: "We have spent a lot of time talking to people living in Lon Hir and have met people with strong feelings both for and against opening a Home for Veterans in their road."
He said despite reassurances, the charity had been unable to win around some neighbours who had "made it very clear that they would not welcome our staff or residents, nor would they wish to join us in any community forum".
Mr Lord said: "It is therefore with a sense of sorrow that our board of trustees have today taken the decision not to proceed with the purchase of this property."
Alabare estimates there are around 220,000 veterans in Wales. Every year around 20,000 personnel leave the armed forces in the UK.