Explosion and evacuation at Llanelli's Bryngwyn School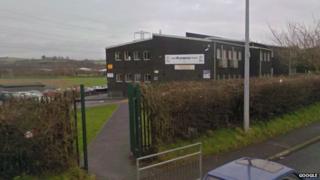 A school was evacuated after an explosion in an electrical sub station which left 500 homes without power in Carmarthenshire.
The incident happened in the grounds of Bryngwyn School in Llanelli at 12:55 BST. No-one was injured.
A loud bang was heard and smoke was seen rising above the school, said Dyfed-Powys Police.
A GCSE exam was disrupted by the incident and the school will be shut on Friday except for those sitting exams.
Western Power said electrical supplies have been restored to all but 20 properties.
Water jets
Carmarthenshire council education director Robert Sully said: "The head teacher at Bryngwyn followed the safety procedures and pupils and staff were moved into a safe area in the school grounds.
"The school has suffered smoke damage in some parts which will be remedied in due course.
"There was an ICT GCSE exam due to have taken place this afternoon, the school has spoken to the exam board and explained the circumstances, and the school will work with the board to resolve the issue."
Mid and West Wales Fire and Rescue Service sent two fire crews from Llanelli to tackle a fire in the sub station with a mixture of water jets and foam.