St Catherine's Island fort off Tenby to open to visitors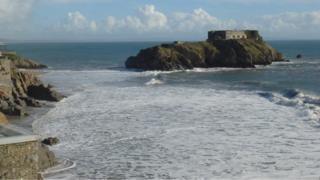 A Victorian fort on an island off the Pembrokeshire coast is to reopen as a tourist attraction after being closed for decades.
St Catherine's Island fort - a landmark off the coast of Tenby - once housed a zoo but has been disused for 36 years.
A previous application to reopen it was turned down by National Park planners.
But Pembrokeshire Coast National Park's planning committee approved a revised plan because of the "economic benefit" the attraction would bring to the area.
A number of conditions will be put in place prior to any developments taking place on the island.
The proposal by the Tenby Island Project includes restoring the fort and adding a nature walk, boat landings, shops and places to sell food and drink.
A Tenby landmark
The fort is a scheduled ancient monument and grade II-listed building
It was a marine fort from 1868-1870, built to protect Milford Haven
It was decommissioned as a fort in the early 20th Century, becoming a private dwelling
It was brought back to military use during World War Two
It was used as a zoo between 1968 and 1978