Morriston Hospital's new entrance opens in £60m development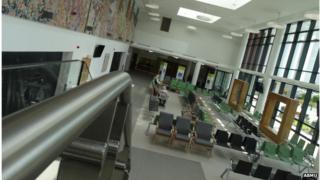 The new main entrance to Morriston Hospital in Swansea has opened its doors as part of a £60m development of the site.
The opening will see the transfer of outpatient services from older sections of the hospital, with a phased moved over the coming weeks.
An estimated 264,000 patients will use the new block each year.
The work is part of a larger £102m redevelopment of the whole site, with new roads, a helipad and car park.
A specialist rehabilitation centre has also opened.
The first unit to move over will be endoscopy, which is due to open by the end of the month.
The range of services at the new building will include:
General outpatients
Paediatric outpatients
Fracture clinic
X-ray to support the general outpatients department
Pre-assessment clinics
Head and neck services
Cleft lip and palate
Blood tests
Lung tests
Education centre
Endoscopy suites
A number of shops are due to open over the summer at the front of the building.
Abertawe Bro Morgannwg University Health Board chief executive Paul Roberts said: "We always want to improve our services and facilities, and this is a demonstrable example of how that is being achieved.
"It is a very proud moment for everybody."
The board's Disability Reference Group, which gave advice during the design and building phase, was given a tour of the facilities prior to the public opening.