Anne Denholm appointed as Prince of Wales' royal harpist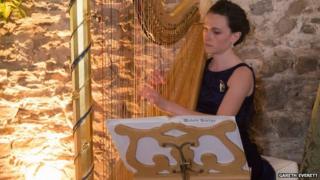 A woman from Carmarthenshire has been appointed the Prince of Wales' official harpist.
Anne Denholm, 23, from Carmarthen, is the fifth person to take the role since it was reinstated in 2000.
She will conduct her first performance in the post at the Royal retreat Llwynywermod in Llandovery.
Ms Denholm, the first harpist to win the Royal Academy of Music club prize, said her appointment was a "great honour".