Six years jail for 'end of world' weapons Swansea man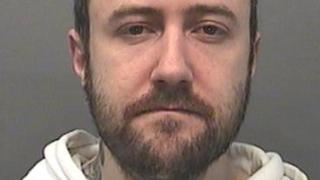 A Swansea man who built up an arsenal of weapons in preparation for the end of the civilised world has been jailed for six years.
Jeffrey Paul Lloyd, 37, had a home made pipe gun, pepper spray, knives, crossbow and an axe to defend himself.
Swansea crown court heard he ordered them online from Germany and Sweden using the internet currency Bitcoin.
Lloyd admitted four charges of possessing illegal weapons and ammunition.
The court heard the Metropolitan Police was monitoring the websites and tipped off South Wales Police, who raided Lloyd's flat in Alexander Road in Gorseinon on 26 March.
Ian Wright, prosecuting, said Lloyd was obsessed with the idea that the end of the world was close and civilisation would dissolve into chaos.
Lloyd's barrister Jon Tarrant said the defendant had not shown off the weapons in public although he had practised firing the gun where no-one could see him.
But Judge Peter Heywood said Lloyd's position was made worse by his previous convictions for stabbing a girl in the back with a knife and attacking a woman with a hammer as she sat in the driver's seat of her car.
"These were serious weapons and clearly the pipe gun was capable of being fired with lethal consequences," he said.
"You have used violence in the past and that is of great concern. You are a danger to the public."