Committee calls for Swansea urban horse tethering ban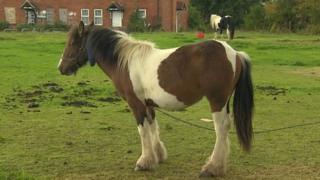 A pilot ban on horse tethering in Swansea should be introduced by the council, a committee has said.
The call follows a petition from the Friends of Swansea Horses (FOSH) and increasing concern about the health of the city's urban horses.
A specially appointed group of councillors made the recommendation alongside calls for council-run grazing lands and more owner education.
The full council will make a decision by May 11.
'Positive step'
Councillor Jeff Jones, who led the group, said: "Our starting point, and the starting point for everyone that we spoke to, is that the suffering of many horses kept on tethers on council land is not acceptable.
"We heard enough examples of neglect and cruelty to convince us that the current situation cannot be allowed to continue and that something needs to be done."
He said the ban should be delayed for six months to give time for owners to register their animals and find alternative grazing grounds.
A FOSH spokesman said: "We think this is a very positive step to end the problem of fly grazing.
"We hope a partial ban will eventually lead to a full ban on tethering being introduced across Swansea."