Pembrokeshire beach sewage reports confirmed as common algae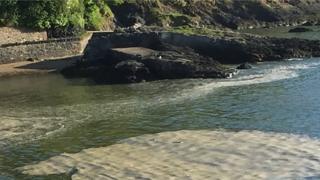 Residents and visitors have been reassured that Pembrokeshire beaches are clean following reports of sewage in the water.
Natural Resources Wales investigated the sightings and confirmed it is a naturally occurring algae.
The algae, called Phaeocystis and Chaetocerus, is often mistaken for pollution because of its oily appearance and seaweed like smell.
It thrives in warm weather and further reports are expected.
Beaches where the algae has been confirmed include Barafundle, Cwm-yr-Eglwys, Freshwater East, Lydstep, Newgale, and Tenby.