Swansea man left horse tethered without food and water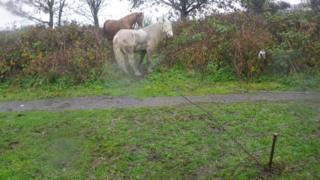 A Swansea man who left a horse and foal tethered without adequate shelter, food and water has been given a 12-month community order.
Alan Jenkins, 59, of Penlan, was found guilty of one charge of not meeting the duty of care to an animal.
Jenkins, who left the animals near Clwyd Road, Penlan, was ordered to pay £750 costs and an £85 victim surcharge.
RSPCA inspector Neill Manley said it was "not acceptable" to leave horses tethered like this.
The issue of horses being tethered in the city led to the proposal of banning it on Swansea council land, but the move was blocked due to the cost involved.