Muhammad Ali boots in Carmarthen Athletic RFC collection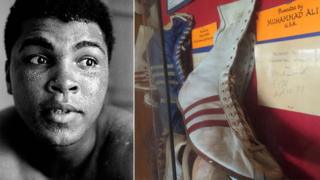 A "magnificent reminder" to the life of sporting icon Muhammad Ali has pride of place in a rugby club in west Wales.
For Carmarthen Athletic RFC has a pair of the boxer's boots in its sports memorabilia collection which belonged to former club stalwart Gwynne King Morgan.
Ali died last Friday in Arizona at the age of 74.
His funeral service takes place in his hometown of Louisville, Kentucky, on Friday.
His boots were presented to Mr Morgan in 1977 by the late Gerald Williams, the former BBC sports commentator who lived in Llangynog near Carmarthen.
He acquired them after interviewing Ali and his manager Angelo Dundee.
Club chairman Wynne Jones said: "Who would say that a little west Wales town has these magnificent reminders of a magnificent career?
"He was indeed the greatest."
The club also has a pair of boots belonging to Sir Henry Cooper who fought Ali.
Mr Jones said the the value of Ali's boots was not known and "not important".
"The whole ethos of the collection to us is that if somebody is kind enough to donate to us we respect the fact and they are perpetually on display."