Anglers blame poachers for sewin decline in rivers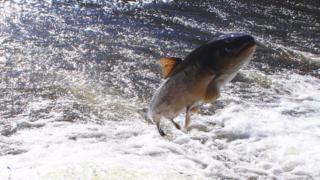 There are concerns that sewin or sea trout could be on the verge of extinction in Wales.
A range of issues have been blamed for the decline but anglers believe an increase in poaching is a big factor.
Natural Resources Wales said it was trying to stop poachers despite fewer monitoring officers due to budget cuts.
Steffan Jones, from Llandysul Anglers Association, Ceredigion, said: "We are facing losing the most emblematic of all Welsh fish."
He said numbers were at a low level despite anglers using "catch-and-release" methods to fish.
"The main issues are poaching and that's happening because policing of the rivers is at an all time low.
'Pull together'
"Also, in-river netting from the coracles have no quotas. So they can literally catch every fish that runs the river within their allotted season."
Coracle fishing with nets has a long tradition.
Dai Watkins, founder of the Welsh Sea Trout Association, said coracle fishermen, like anglers, felt it was time to "pull together to address the problem".
He said numbers were a small proportion of what they were in the 1970s and 80s.
Ben Wilson, from Natural Resources Wales, said fishery enforcement officers worked on the nation's rivers.
"We're never going to get back to the days of having two or three on every river," he said.
"We are in an age of public sector cuts so there have been reductions.
"However, I don't believe there is a high enough level of poaching going on to warrant more officers monitoring the rivers."