Plaque in Carmarthen for Plaid's first MP Gwynfor Evans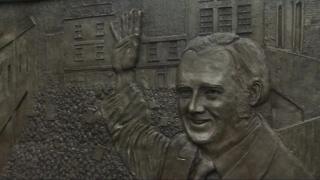 A plaque to commemorate Gwynfor Evans' victory as Plaid Cymru's first MP 50 years ago has been unveiled in Carmarthen.
The Carmarthen by-election on 14 July 1966 is said to have changed the face of British politics, as the SNP won a seat in Scotland soon afterwards.
It is seen by many as the political spark that fired the long journey to devolution in both countries.
The plaque was unveiled outside the town's Guildhall on Saturday.