St Dogmaels warned maintenance work could discolour water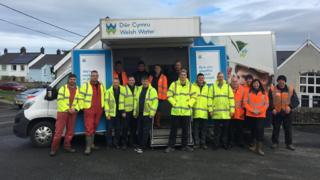 Residents in a Pembrokeshire village are being warned their water could be discoloured due to £21m maintenance work.
People in St Dogmaels might also have low water pressure, Welsh Water said.
The company is using "ice pigging" to clean six miles (10km) of pipes in the next few weeks as part of its investment in the area's drinking water system.
The work involves injecting a pipe with "slushy ice" to pick up any debris.
Boss Ian Christie said: "With some parts of the water network laid over a century ago, the time has come for us to undertake some essential work to cleanse the pipes."