Petition launched to save Milford Haven's outdoor pool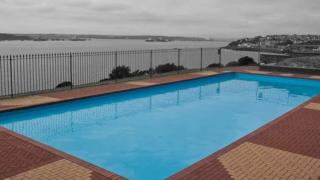 A campaign has been launched to save a Pembrokeshire town's outdoor pool.
Pembrokeshire council recently voted to cut Milford Haven paddling pool's £1,000 budget, leaving its future uncertain.
A petition started by Brian Phillips calls on Milford Haven Town Council to take over its running.
Mr Phillips said the pool "has been a source of summer fun for children for many decades" and had been "gaining in popularity over the last few years".
"We need Milford Haven Town Council to take responsibility for this lovely feature to ensure it remains open for many years to come," he added.
A Pembrokeshire council spokesman said the local authority would work with elected members, the town council and the community to "ensure a bright future for the town's paddling pool".