Pupil 'fires airgun' in Pembroke School changing room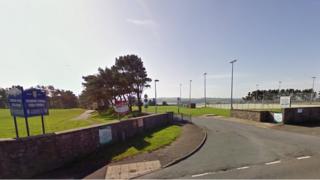 A pupil has been injured after an airgun was fired at a Pembrokeshire school.
The Year 11 pupil brought a BB gun - an airgun firing lightweight pellets - to Pembroke School on Tuesday and fired a pellet across a PE changing room.
The council said it struck another pupil in the face causing what are believed to be superficial injuries.
Staff at the school called the police and helped to track down the pupil and recover the weapon.
The injured student was taken to hospital.