Gorseinion man hit by falling lights named as Gerald Macey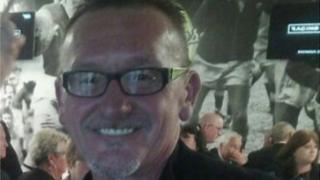 A man has been arrested on suspicion of causing death by dangerous driving after a man was killed by falling traffic lights.
The incident happened in High Street, Gorseinon, Swansea on Friday at about 16:15 GMT.
A 55-year-old man died when a BMW hit traffic lights and they fell on him.
He has been named as Gerald Macey, and was described as a "fun loving character" who dedicated his life to his children and grandson.
A 21-year-old driver of a BMW was arrested and has since been released on police bail pending further enquiries.
Mr Macey's family said in a statement: "Gerald was a much loved and cherished husband, father, bampy, son, brother, brother-in-law and uncle.
"Nobody ever had a bad word to say about him. He was a fun-loving character, always busy and 'on the go'.
"Since losing his wife, Jackie, 12 years ago, Gerald dedicated his life to his children Melanie and Sean, and grandson."
Mr Macey, from Gorseinion, was retired having worked in the construction and coal-mining industries.