Fishguard's Theatr Gwaun taken over by community group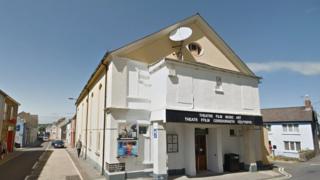 A deal has been done to transfer the ownership of a Pembrokeshire theatre.
A community trust has been leasing Theatr Gwaun in Fishguard from Pembrokeshire council for five years.
The venue has run as a theatre and cinema since 1994, but it closed in 2011 when the council ended its funding after it made losses of £60,000 a year.
Chairman of the Theatr Gwaun Community Trust, Richard Goswell, said it was a "giant step" for the arts in the town.
The transfer is the first to be made under the council's Community Asset Transfer Policy and Mr Goswell said it would allow the group to access a range of funding.
A campaign to reopen the theatre was backed by Hollywood actors Beau Bridges and Sally Field.