West Wales coracle fishing gets European protection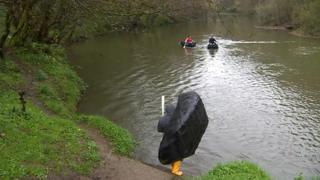 Welsh sea trout caught in traditional coracle boats have been awarded special protected status by the European Commission.
Just a handful of coracle-paddling fishermen are permitted to catch sea trout, known in Wales as "sewin", on the rivers of west Wales.
The tradition stretches back hundreds of years and has now been granted Protected Food Name (PFN) status.
The EU backing gives legal protection against imitation and misuse.
"West Wales coracle caught sewin" is the latest Welsh food product to have protected status, joining Welsh lamb, Conwy mussels and Anglesey sea salt as "branded" products with a distinctive means of production.
The four-year campaign was led by the Carmarthen Coracle and Netsmen's Association and supported by the Welsh Government.
"Coracles have been used to fish the rivers of west Wales for hundreds of years," Julie Rees, secretary of Carmarthen Coracle and Netsmen's Association, said.
"We are also proud that the old tradition and heritage of coracle fishing has been acknowledged and would like to thank the Welsh Government for their help and support offered throughout the long process."
Welsh foods with protected European Commission Protected Status:
Anglesey sea salt
Carmarthen ham
Conwy mussels
Pembrokeshire early potatoes
Welsh lamb
Welsh beef
Welsh pork
West Wales coracle caught salmon
Welsh regional wine
Welsh wine
Coracle fishing is the ancient method whereby pairs of coracles suspend a net between them, often at night, to catch sewin as they start to move upstream.
A coracle is a small round boat, similar in shape to half an Easter egg, which is lightweight and easy to carry but offers limited stability.
It was made traditionally from woven willow or ash and originally covered in animal hide, now replaced with tarred calico or canvas.
Unique to coracles, the fishing nets must be handmade. Their size is governed by strict regulations enforced by National Resources Wales (NRW), allowing smaller fish to swim through.
Only 21 pairs of coracles are licensed to fish - and none at weekends.