Students help Welsh university campus construction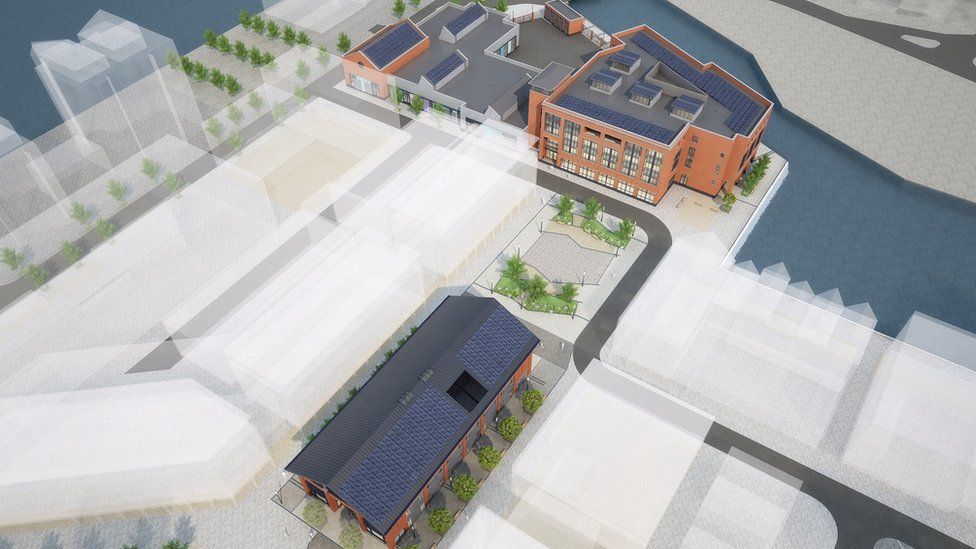 Students have been playing a key role in the construction of their new university campus in Swansea.
University of Wales Trinity Saint David is building a £300m innovation campus at the SA1 waterfront development.
Three of its undergraduate students have combined their studies after being taken on as employees of constructors Kier and are learning on the job.
The partnership has also seen other students pitching ideas and designs for how the finished buildings will look.
Classrooms have also been set up on site for lessons to take place on a range of construction-related subjects while phase one is constructed, with work due to be completed in 2018.
"You need the right mentors and it's important for the students that you don't overload them," said Howard Monsen, senior project manager for Kier.
"It's a fine balance but we are flexible in our approach with their studies and exams.
"We understand their critical need is to achieve those exam results, but to have a live project which they can actually relate to and cross over with their studies has a huge benefit on where they're going."
One of those is third year quantity surveying student Zoe Morgan who has been employed as an assistant quantity surveyor.
"I was quite worried we'd be sat down in the office and not actually given a real task but we've been involved in every single stage - something I didn't expect to be involved in so quickly," she said.
"I feel I can apply things quicker now. Before I go to a lecture, I've already seen a situation on site and I've dealt with something similar. So it's no longer a make-believe situation. It's real life."
The first phase involves building a library along with the faculty of architecture, engineering and computing which also includes a construction training centre where more than 1,000 students will be trained every year.
Students walking through the buildings' doors when they open next year may see them decked out in designs by their colleagues.
"We've got a huge range of students that have been involved in the project to date," said Mike Bessell, the university's SA1 project manager.
"We've got students we're working very closely with looking at interior design and artwork to form part of the final finish for the interior of the building.
"Rather than go down the standard route, what we decided to do is work with our faculty of art and design."
Stacey Mead, a third year surface pattern design student, is one of those hoping to have her work chosen for the library.
"The opportunity could lead to so many things and it's a confidence boost as a student to be able to see where your designs could lead to," she said.