Swansea woman ends Saudi Arabia 'locked up' court case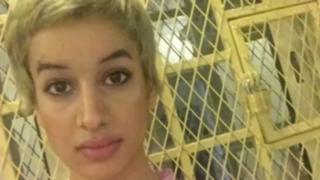 A High Court case involving a Swansea woman claiming to be imprisoned by her father in Saudi Arabia has ended after they reconciled.
Amina Al-Jeffery, 21, had complained her father locked her up in his flat in Jeddah because she had "kissed a guy".
In August, Mr Justice Holman said her father had to allow her return to England or Wales, but she has not.
On Wednesday the judge heard Miss Al-Jeffrey wanted to withdraw proceedings.
The court heard after a recent private meeting in Jeddah with her solicitor, Miss Al-Jeffery said she wanted to focus on the reunion with her family.
Her father, Saudi academic Mohammed Al-Jeffery, disputed her allegations and said he was trying to protect her.
The court heard Miss Al-Jeffrey, who has dual British and Saudi Arabian nationality, had now been promised freedoms which she did not believe she would have been given by her father had it not been for the proceedings.
She said he assured her she would not be prevented from pursuing her career and education and would have free access to her telephone and laptop.
He also said she would be free to enter into a marriage if and when she wished, the court heard.
He would also not prevent her from leaving Saudi Arabia when she was ready to do so and she would be treated no differently from her sisters.
Her solicitor, Anne-Marie Hutchinson, told the court: "Amina is very clear that she would not have what she has now in terms of freedom and a life if it were not for these proceedings.
"This is based not only on what the court has achieved for her in terms of orders and her ability to meet outside agencies for assistance, but because of the understanding that she has achieved with her father and the reconciliation that they have made in their relationship."