Swansea Wales on Wheels: Wooden car prototype on show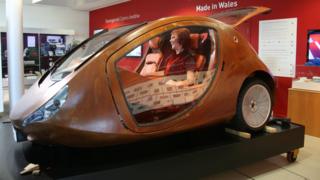 A prototype for a wooden car will go on show at Swansea's National Waterfront Museum at the weekend.
Designed and built in Caerphilly, Yr Glanaf - or The Cleanest - will be the main attraction at the Wales on Wheels festival on Saturday.
The electric-powered car has a body made of Western Red Cedar and is as strong and light as aluminium.
The three-wheeled vehicle also has a joystick for steering, accelerating and braking.
Speed is shown on the dashboard through pulsing, coloured lights to let the driver concentrate on the road.
Other highlights in the festival include a Wales-made Gilbern car and a Trabant, along with other wheeled transport from the 20th and 21st Centuries.