Nantycaws gets £40k from Valero after kerosene leak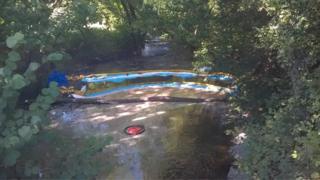 A village where 140,000 litres of oil leaked into a river killing a large number of fish has been given £40,000 by the pipe owners.
Kerosene spilled from the Valero-owned pipeline into Nant Pibwr, near Nantycaws, at the start of October.
Most was recovered and the firm said nearby land and fields were now free of hydrocarbons and Nant Pibwr's water again met drinking water standards.
Valero said the money had been given in recognition of residents' patience.
It added the community could decide how it should be spent.
Cllr David Watson, chairman of Llangunnor Community Council, said: "The upheaval caused by this incident for the residents of Nantycaws was serious and we welcome the company's recognition of this by making a substantial donation to the community.
He said councillors would speak to residents to find out how they wanted the money to be spent so it could benefit the whole community.
Valero Pipelines and Terminals Director Mark While said: "Valero is acutely aware that local residents in Nantycaws faced a number of difficulties and throughout this incident we have worked hard, through our pipeline agents Fisher German, to maintain regular contact with them, including house visits, to keep local people updated on developments."
"The decision on what project or projects the donation will support rests with local residents and the community council. However, we hope that whatever it does eventually go towards will be of lasting benefit to the community in Nantycaws."