Snooker star Matthew Stevens' cue stolen from car in Llanelli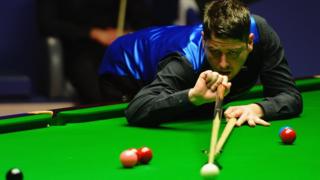 Double snooker World Championship finalist Matthew Stevens has had his cue stolen from his car.
Stevens, 39, has had the cue since becoming a professional in 1994 and it has helped him win the 2000 Masters and 2003 UK titles.
It was taken from his white BMW between 20:00 BST on Sunday and 08:30 on Monday while it was parked on Gilbert Crescent in Llanelli, Carmarthenshire.
Stevens has promised a reward for the safe return of his cue.
It was in a black case with the word MAXIMUS written in gold on the case.
Dyfed-Powys Police is investigating the theft.
Stevens, from Carmarthen, has twice been a World Championship finalist, losing to Mark Williams in 2000 and Shaun Murphy in 2005.