Port Talbot steelwork's history being digitised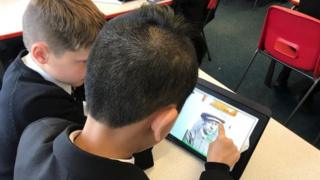 The history of the steelworks in Port Talbot is being digitised to ensure that future generations will be able to learn about its importance.
Pupils at St Joseph's Catholic School and Sixth Form Centre are helping to create an eBook to be used by schools.
It will be an interactive guide to the Tata Steel plant.
Education technology company Aspire 2Be, which is collaborating on the project, said it hoped to "preserve the heritage of the site".
It is liaising with pupils using iPads and green screens to create the content for the eBook, which will also be kept in the steelworks' visitors centre.
Graham Rowlands, who has worked for Tata Steel for almost 40 years and put together the timeline for history for the project, said: "Steel is an important part of Wales' history and I feel passionately about sharing this story with people in Wales and beyond."