Port Talbot's Margam Abbey's animal church service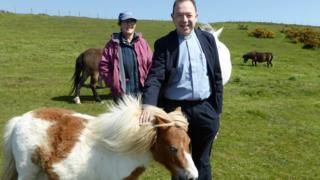 Animals of all sizes have been in their Sunday best for a pet-friendly church service in Port Talbot.
Margam Abbey in Port Talbot opened its doors to all animals on Sunday for its annual thanksgiving service.
The 30-year-old tradition has seen everything from horses to goslings join the congregation.
"All animals are welcome from dogs, cats, hamsters and rabbits to ponies - there is plenty of room," said Father Edward Owen.
'Like Noah's Ark'
"The annual pet service is very popular and has been running here for more than 30 years - in fact I remember going to it as a child myself."
Father Owen visited Shetland pony Barney and owner Alison Thomas before for the service.
Ms Thomas, from Grugwyllt Fawr Farm, Margam, said: "The pet service is really good fun - it's like Noah's Ark inside the Abbey."
The service took place at 15:30 BST.