Pembrokeshire council leader candidate Jamie Adams withdraws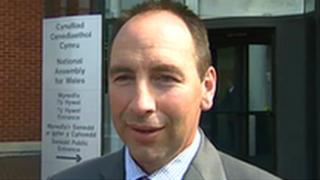 Unaffiliated councillor David Simpson is on course to become the new leader of Pembrokeshire county council, after his only opponent withdrew.
The council is due to elect its new leader next Thursday.
Jamie Adams, former leader and member of the Independent Plus Political Group (IPPG), has removed his name from the contest.
The IPPG has led the council since 1996 but lost 20 councillors in the local elections earlier this month.
Mr Simpson left Pembrokeshire's cabinet and the IPPG in 2014 over disagreements about the way the group was being run by Mr Adams.
It followed a row over an investigation into former chief executive Bryn Parry Jones.
Mr Simpson has already won the backing of the Labour, Liberal Democrat and Conservative members in his leadership bid.