David Simpson elected unopposed as Pembrokeshire leader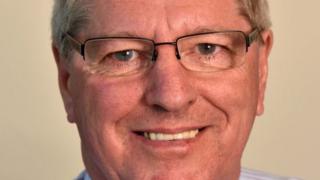 Unaffiliated councillor David Simpson has been elected as the new leader of Pembrokeshire council.
He was the only person nominated after the previous leader, Jamie Adams, pulled out of the contest.
Mr Simpson left the council's cabinet and Independent Plus Political Group (IPPG) in 2014 over disagreements about the way the group was being run.
The IPPG has led the council since 1996 but lost 20 councillors in the 4 May elections.
Mr Simpson won the backing of the Labour, Liberal Democrat, Conservative and Plaid Cymru members in his leadership bid.