Two campers injured in Port Eynon Bay cliff fall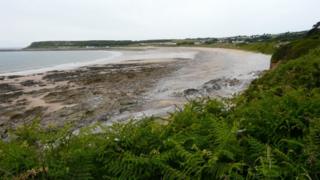 Two men were airlifted to hospital after falling from cliffs in Swansea early on Sunday.
Coastguards were alerted to the incident between Port Eynon Bay and Mewslade Bay at about 1:30 BST.
Horton and Port Eynon RNLI launched its lifeboat and two crew went ashore to help the rescue helicopter winch the men aboard.
One man was said to have suffered head injuries and the other leg injuries.
The RNLI said they had been camping with friends near the cliff point known locally as Boilers Slab.
Lifeboat operations manager Lawrie Grove said the rescue was an "excellent example of emergency and rescue services working closely and effectively together".