Milford Haven outdoor pool to open in July after donations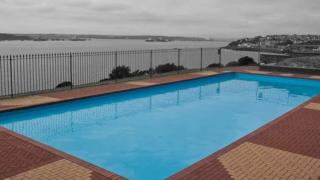 A Pembrokeshire paddling pool which had its funding cut will open this summer thanks to donations.
The future of the outdoor pool in Milford Haven was uncertain after the county council voted to cut its £1,000 annual budget.
But the town's Astoria nightclub and the Church at Nantucket donated £1,000 to keep it open this year.
Members of the Milford Haven Ladies Circle also offered to prepare the pool ready for its opening in July.
Pembrokeshire council said it would work with elected members, the town council and the community to "ensure a bright future for the town's paddling pool".
Mayor of Milford Haven, Colin Sharp, said the pool had "always been an important feature in Milford Haven" but its future was still unclear.