Thieves wanted after cancer charity box theft in Swansea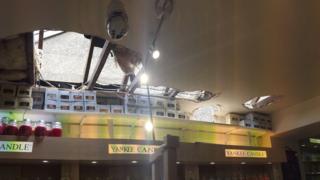 Thieves stole £1000 in charity money and £4,000 worth of stock as they broke in through the roof of a Swansea shop.
CCTV footage captured a man entering Rhys Candles in Llansamlet on Monday.
Owner Wendy Johnson said it was "devastating" as she had raised at least £175 for her father who was diagnosed with terminal brain cancer in March.
That collection, along with a Cancer Research charity box containing around £800, were taken in the break-in.
"We've only been raising for Cancer Research for the last couple of months and we were up to around £800," said Ms Johnson.
"But then in March, my dad got diagnosed with brain cancer, so one of my customers gave us a rare candle to raffle and said that all the proceeds had to go to my mum and dad, to maybe have a meal or go for an evening out somewhere.
"It's just the thought of someone taking any charity money really, but when it's so close to home it's heartbreaking."
CCTV footage shows one of the thieves searching the shop before taking the box as well as at least 200 candles worth more than £20 each.
South Wales Police is investigating the theft.