Giant 12ft flower stuns Swansea holiday couple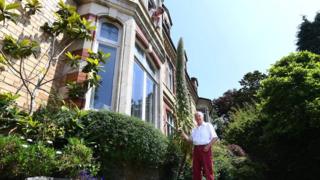 A Swansea couple returned from their two week holiday to find a giant flower had shot up in their front garden.
John and Shirley Thomas from Sketty have no idea how the 12ft (3.6m) tall flower arrived on their lawn as they never planted it.
After some research they found it was an echium pininana - native to the heat of the Canary Islands.
"It absolutely towers over every other plant in the garden," said Mr Thomas, "you couldn't miss it".
The couple, who are in their 70s, said birds may have carried the seeds over from another garden.
"It's lucky we went on holiday as we probably would have pulled it up," added Mrs Thomas.