Swansea's Bay TV ask for programme time cut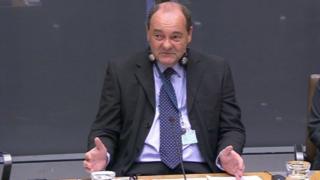 Swansea's local television channel Bay TV has cut two journalism jobs and asked the regulator to reduce the amount of programmes it must broadcast.
The channel launched in July 2016 and broadcasts in the Swansea Bay area on Freeview, Virgin and online.
Station manager Peter Curtis told an assembly committee that shrinking funding had forced it to reduce staffing levels.
But he was optimistic the channel would survive.
He was giving evidence to the culture, Welsh language and communications committee's inquiry into news journalism.
Mr Curtis said: "We have to produce 17 and a half hours of programming a week under our licence. We find this pretty hard to meet.
"We have appealed to Ofcom to reduce our commitment to seven and a half hours a week."
Ofcom has been asked to comment.
The programming commitments were made by Bay TV in order to win the licence after it was first advertised in December 2011.
Mr Curtis said "economic conditions" meant the station could not achieve "a good enough advertising revenue" to meet its commitments.
He explained that the three years of funding that all local TV stations receive from the BBC reduces year on year, while a syndicated programme called Digital Nation ended which meant "a monthly revenue of £4,000 a month has ceased".
"This meant that we had to lose two journalists in our first year, so we have had to reduce our news output at the moment to an hour at lunchtime and half an hour at teatime," he said.
Mr Curtis added that the amount of commercial income the station had been able to raise in its first year had been "a surprise" because it was "so small".
The channel launched in July 2016 from studios based on the campus of the University of Wales Trinity St David.
The station broadcasts another channel, Talking Pictures, at weekends which provides "a vital part" of its income, Mr Curtis said.
In its first year Bay TV received £140,000 from the BBC, and will receive a reduced amount over the next two years.
Mr Curtis said he remained optimistic that the channel would survive once the BBC's funding ended in 2019.
"I have no fear. I believe that the excellence of Bay TV and its people will attract investors, and that we will move on with investment from a third party.
"We have at least another 12 months to prove our commercial model, to perhaps get on - with Ofcom's help - to Sky.
"We are not chucking in the towel, we are going on to fight for the people of Swansea."