Renovation work starts on Carmarthen velodrome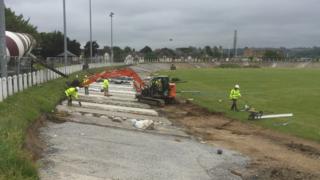 Renovation work has begun on one of Wales' oldest outdoor velodromes.
Carmarthen Park, which opened in 1900, will be turned into a training and competition venue for cyclists as part of a £580,000 scheme.
More than 230 concrete panels on the velodrome are being ripped up and replaced with new ones.
The project has received funding from Carmarthenshire council, Carmarthen town council and Sport Wales.
Once complete, it is hoped the velodrome will be available to members of the public as well as cycling clubs and elite users.
Carmarthen town council will manage the facility.