Up to 20 cats poisoned in Cilgerran, RSPCA warns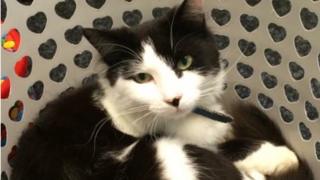 Up to 20 cats may have been poisoned in a Pembrokeshire village, a charity has warned.
RSPCA Cymru said three cats from Cilgerran have died and there have been a number of missing cat reports in recent months.
It said it was unclear whether the poisonings were "deliberate or a tragic accident".
Cat owners are urged to be vigilant and to contact a vet straight away if poisoning is suspected.
Katina Andreou's cat was found dead on Thursday having been missing since 16 June.
She discovered that other cats in Cilgerran had gone missing too.
"We're a small village and it seemed unusual to see so many posts about cats that had gone missing," she said.
"These poisoning incidents and the missing cats are all from properties within a 10 minute walking radius.
"There could be an innocent explanation for why the recent poisoning events happened but I'm really eager to work with RSPCA Cymru and other agencies to raise awareness."