Morriston Hospital's breast reconstruction nurse is Wales' first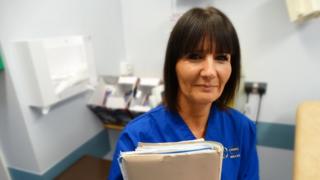 Swansea's Morriston Hospital has become the first in Wales to employ a dedicated breast reconstruction nurse.
Based at the hospital's Welsh Centre for Burns and Plastic Surgery, Julia Warwick cares for patients before and after reconstruction surgery.
She has also established a helpline to support patients.
Catherine Kirkup from Llanwrda in Carmarthenshire underwent the procedure in April and said seeing the same friendly face made a real difference.
The mother-of-three, who was diagnosed with breast cancer three years ago, said: "I don't think I would have got through this without Julia if I'm honest.
"Everything I have done has been through Julia; I haven't had to deal with anyone else.
"It's nice to come and see the same person, a friendly face, who knows what she's talking about."
Former patient Sarah Cooke said having breast reconstruction can be an emotional ordeal: "In the public's eyes, they believe that once you've had the all-clear, your story's over.
"They don't appreciate that in some ways the ordeal has just begun.
"You might technically be healthy, but you're still a million miles from getting back to the person you were when the nightmare started for you."
Ms Warwick, who has 23 years experience in plastic surgery, said the role meant patients had "continuity of care".
She said: "Breast reconstruction is a lengthy journey, I am there to coordinate that journey and support them, to be a friendly face they can turn to.
"All of them face the same kind of psychological and emotional implications surrounding reconstruction.
"It is being able to pick up a phone and have someone you can speak to that knows you.
"When patients are discharged I will always follow up with a phone call to see how they are feeling and how they are getting on at home."