Newcastle Emlyn Teifi death: Friends tried to save man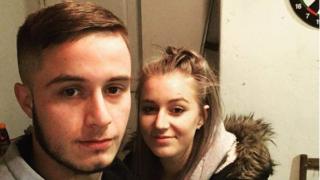 Friends of a 22-year-old man who died after getting into trouble in the River Teifi have told how they tried to save him.
Jem Cole, also known as Jem Pendragon, was swimming in the river in Newcastle Emlyn when he went under the water on Thursday.
His friends said they held out their legs for him to hold on to.
His sister, Willow Pendragon, 20, said he was the "life and soul of the party".
Mr Cole's body was found by emergency services following a search of the river, in Newcastle Emlyn, which straddles the borders of Carmarthenshire and Ceredigion, on Thursday.
Friends gathered at the river bank on Friday to remember Mr Cole, and told how they had tried to save him but he had "disappeared under the water".
Carl Williams told BBC Wales: "He was my best mate, he is irreplaceable.
"There is a big gap missing in our little group."