Port Talbot actor battles jelly fish to complete Channel swim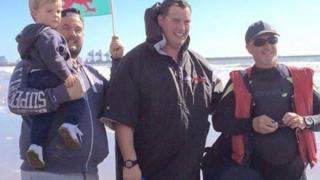 A Port Talbot actor endured jellyfish stings and strong winds to swim the Channel after being inspired by his father's battle with cancer.
Kristian Phillips, 29, set off on 4 July and swam solidly for 22 hours and 50 minutes in the pitch black.
The actor, who stars in CBBC's Wizards Vs Aliens, started long-distance swimming after his dad was diagnosed with colon cancer in 2015.
His father Robbie Phillips, said: "I have never seen anyone so determined."
The 68-year-old, who has attempted to swim the English channel himself, was diagnosed with colon cancer two-years-ago.
Now given the all-clear, he coached his son to take on the epic challenge last week, and watched as he completed the swim from a boat, along with family members.
It was hoped the swim, for Cancer Research, would take 16 hours but a change in the weather conditions early on, with the winds reaching 22mph (35kph), forced his son to spend nearly a day in the water between Folkestone, Kent and Cap Gris Nez in northern France.
But he is not keen to repeat the experience: "I am absolutely elated, but I would not coach my own son again, it was like Chinese torture in the end, we were in the pitch black in the last few hours, it was very emotional in the end.
"He did have a few jelly fish stings, including one substantial one, which he didn't say anything about until after the swim.
"I have never seen anyone so determined."