Carmarthen fireman denies sexually assaulting colleague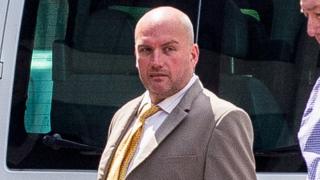 A fireman from Carmarthenshire has gone on trial accused of sexually assaulting a female colleague.
David Lewis, from Carmarthen, was said to have started the harassment with "inappropriate comments" before progressing to physical contact.
In one instance he was said to have grabbed his victim's breasts, Swansea Crown Court heard.
Mr Lewis, 40, denies five counts of sexual assault.
Other allegations include Mr Lewis pulling the woman's trousers down and unlocking a toilet door when she was inside.
They were all said to have taken place between May 2014 and October 2015.
'Garage humour'
Mr Lewis was dismissed from the fire service after an internal investigation and jurors were told the woman did not go to the police until afterwards.
She said Mr Lewis had been suspended in the past and every time he seemed to get away with it.
"I thought no one would believe me," she said.
Mr Lewis told the court his behaviour was "garage humour" and that the woman was a "willing participant".
The trial continues.