Swansea team gets £2m to help tackle global burns problem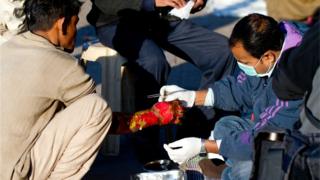 A Swansea University team has been given £2m to research outcomes for burn victims across the world.
Around 95% of burns occur in low and middle income countries and 70% of these injuries affect women and children.
The prognosis for victims is also much worse in the developing world.
The National Institute of Health Research grant was secured by Prof Tom Potokar of Swansea's Centre for Global Burn Injury Policy and Research.
The funding will enable Prof Potokar to work with the Interburns organisation to identify measures which could close the gap.
He said: "We are looking at three main areas: measures to help prevent burn injuries happening in the first place, improving burns services, and managing mass burn casualties and burns in conflict scenarios."
Most injuries occur in the home, but Prof Potokar said the causes vary.
"In less wealthy countries, open fires for cooking, as well as oil-fired heaters and lamps are a major problem, and one we've already been able to reduce by distributing solar lighting and encouraging people to use enclosed ovens.
"But in rapidly evolving countries such as Bangladesh, India, and Ethiopia, a growing cause of burns is high-voltage electricity which has devastating effects, often causing multiple limb amputations in adults and children.
"Solving this requires lobbying of governments to strengthen safety legislation, as well as helping them to secure funding to improve the power infrastructure."
The global epicentre of burns injuries is South East Asia, where three times as many women - around four million - are burnt than contract HIV and AIDS.
"Some of the reasons are quite straight forward - women in these countries are doing the majority of cooking and making fires, which are likely to result in burns," Prof Potokar added.
"But a huge, and massively under-reported cause is the number of women burnt in murders and suicides."
Burn centres in the west can save patients with burns over 90% of the body's surface area, while in low and middle income countries burns of over 40% are almost always fatal.
Of those who do survive, many will have long-term disability and disfigurement.
Prof Potokar said that some simple first aid education could dramatically improve outcomes.
"In many parts of the world, oil, toothpaste and even dung are used to treat burns, worsening the injury and heightening the risk of infection.
"By providing the sort of basic first aid education almost all of us in Britain have access to, we can prevent eminently treatable burns from becoming very serious injuries.
"Providing sterile dressings and basic surgical sets [in hospitals], as well as training healthcare workers in simple burn care, can prevent many complications."
Prof Potokar aims to present his initial findings to a conference in Swansea later in the year.