Carmarthen fireman 'didn't touch worker's breasts'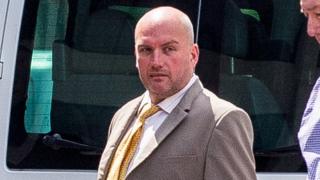 A firefighter accused of sexually assaulting a colleague has told a jury he took part in "workplace banter" like pulling a workmate's trousers down.
David Richard Lewis, 40, from Carmarthen, has been accused of grabbing a female colleague's breasts while she was holding a tea tray.
He told Swansea Crown Court he could recall the incident but said he had grabbed her by the shoulders.
He denies five counts of sexual assault between May 2014 and October 2015.
He told the jury: "It was a bit of fun - in order to smash the cups and have a laugh."
"Did I ever touch her breasts? No never."
He also denied touching her bottom while she was walking up stairs and unlocking a toilet door while she was sat inside.
He said "industrial language" was commonplace at work.
"You spend up to 96 hours at a time with people on your shift," he said.
"You spend more time with them than you do your own family... you get to know people pretty well.
"Was it just me using industrial language? No it was everybody. It was always reciprocated."
The court heard Mr Lewis was dismissed from the fire service in October 2015 following an internal investigation.
The trial continues.