'Fantastic teamwork' saves stranded Aberavon dolphin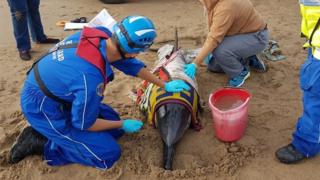 A stranded dolphin has been successfully returned to sea following a "fantastic" joint rescue effort.
Coastguards arrived at Aberavon beach, Neath Port Talbot at about 05:00 BST on Tuesday and said the dolphin was "very much alive" despite being in low water.
It was stretchered back to the sea and the local lifeboat made sure it reached deep waters.
Port Talbot coastguard said it was "very grateful" for the help of dog walkers and local residents.
A coastguard spokesman said local residents brought towels and buckets of water to keep the dolphin alive, before a truck was used to ferry water back and forth.
"Thankfully the dolphin made it to deep waters and survived, a feat that is very uncommon," he said.
"The fantastic teamwork ensured a good end to the unlucky dolphin's situation."