Carmarthen fireman not guilty of colleague sex assaults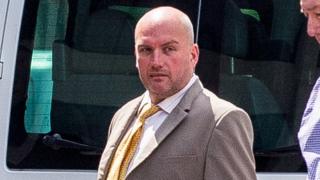 A fireman has been found not guilty of sexually assaulting a colleague.
David Richard Lewis, 40, from Carmarthen, was cleared of five counts on Wednesday.
He was accused of grabbing the woman's breasts and touching her bottom on numerous occasions between May 2014 and October 2015.
Mr Lewis told Swansea Crown Court he only grabbed the woman by the shoulders to make her drop the tray of cups she was carrying.
The trial heard glowing character references about Mr Lewis from people including a doctor, teacher and parents at a local rugby club where the father of two is a coach.
He was described as an "energetic, kind and hardworking family man".
Mr Lewis was dismissed from the fire service in February 2016 and now works as a long distance lorry driver.
The prosecution claimed Mr Lewis touched the woman inappropriately from behind as she walked up the stairs and unlocked a toilet door as she was sitting inside.
He said these things never happened and practical jokes were commonplace in the fire service, which he called "workplace banter".
He described how colleagues participated in pulling down each other's trousers - known as "kegging".
Mr Lewis said he did this to the complainant, but only after she had done it to him.