Welsh ladies choir second in Eurovision competition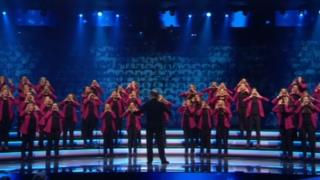 A Welsh choir has finished runner-up in the inaugural Eurovision Choir of the Year competition.
Cor Merched Sir Gar, from Carmarthenshire, was second to Slovenia in Riga on Saturday while hosts Latvia were third out of nine countries.
The choir sang Czech song "O, Mountain, O", Welsh lullaby, "Mil harddach" and an English song, "Wade in the Water".
It was the first time in more than 20 years that Wales entered a Eurovision event, as opposed to a UK entry.
Cor Merched Sir Gar, a choir established five years ago and led by Islwyn Evans, won the Choir of Wales 2017 title in Aberystwyth in April.
They were the youngest of the entrants in Riga and came second to Manet choir Carmen.