Swansea's Cefn Coed Hospital project paints 'mental picture'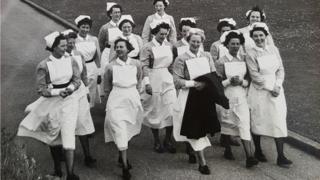 Former mental health staff at Swansea's Cefn Coed Hospital are being sought to help with a £10,000 heritage project to document life at the landmark building.
Heritage group leader Martin Thomas said it aimed to provide a legacy with services having been transferred away from the hospital built in 1929.
It was originally planned as an asylum serving Swansea and Merthyr.
It is not listed but the building and its neighbouring water tower occupy an imposing position above Cockett.
The heritage group, which was set up to safeguard documents and artefacts associated with Abertawe Bro Morgannwg health board, secured money from the Heritage Lottery Fund for the project, A Mental Picture: Celebrating the History of Cefn Coed Hospital.
Mr Thomas said: "We are looking for volunteers who would be willing to share their experiences for an oral history recording.
"We are also looking for volunteers to be part of the project and help with exhibitions."