Swansea Uni's £30m activity centre plan for Singleton Park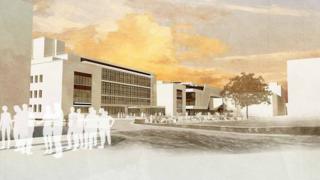 Plans for a student precinct, including a £30m activity centre, have been revealed by Swansea University.
Part of a wall on grade II-listed Fulton House would be demolished to link the east and west sides of Singleton Park campus.
Vice-chancellor Prof Richard B Davies said it would "transform the student learning, social, support, and commercial and retail spaces".
The plans have been submitted to the city council for approval.
They include social and learning spaces, support and welfare, catering, music practice and recording space, dance and performance space, teaching areas and retail.
Prof Davies said: "The student precinct and the new 8,250 sq m student activity centre will be at the core of student campus life at Singleton Park and will modernise the university estate."
A report by Swansea Council officials recommends an application for listed building consent to partially demolish Fulton House is approved by councillors subject to referral to heritage body Cadw.
It states: "The proposal is considered to represent an acceptable form of development that would serve to protect the special character and appearance of the grade II-listed building".
If planning permission is granted, construction would start in early summer 2018, with work expected to be completed by early spring 2020.