Twin Town director Kevin Allen in Swansea food bank appeal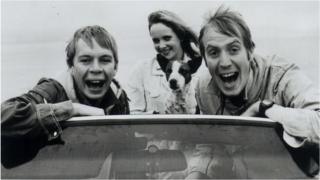 People attending a Swansea screening of a cult Welsh film are being asked to bring a food bank donation.
Twin Town's 20th anniversary screening is being held in Singleton Park, followed by a question and answer session with its director Kevin Allen - who is behind the food bank appeal.
A Swansea food bank recently ran out of supplies due to the school holidays.
Mr Allen said the "situation was a disgrace... but at least we can help a little right now".
He said he made the appeal on Facebook after receiving a letter from his local MP, Tonia Antoniazzi.
It said food banks across Swansea were running out of food, with many parents struggling to feed their children, and made an urgent appeal for donations.
Mr Allen said they had sold quite a few tickets to the Twin Town screening and "if everyone who came brought something, it would make a huge difference".
He asked for non-perishable food items to be dropped off at the gate on the way in. They will then be distributed to food banks across the city.
Speaking of the screening itself, Mr Allen said he was "really looking forward to it" and hoped the weather would be kind.
The food bank network charity Trussell Trust said school holidays in 2016 saw a 10% increase in people using its food banks.
During July and August last year, 5,185 three-day emergency food supplies were given out by the Trussell Trust in Wales, compared with 4,733 in May and June.
Val Baker, a volunteer at an independent food bank in Aberystwyth, said while they were "obviously very grateful" for all donations, she would urge people to think about the lifestyles of the people they are donating to.
For instance, she said "a pie in a tin can take up to half an hour to cook, and some people could not afford to have their oven on for that time".
She said tin cans of high protein meats like corned beef or ham with pull rings were useful to people who may not have a tin opener.
And instant noodles which only need a drop of hot water to cook were also good - as were biscuits and chocolate because "they are human beings who deserve a treat sometimes".