Swansea council staff skipped work for breakfast club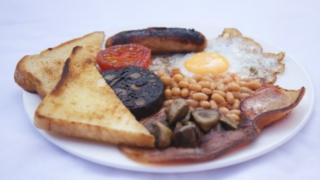 A group of Swansea council employees skipped work for unauthorised breakfast breaks, an audit report has revealed.
The 17 uniformed workers were caught by the authority's fraud team.
Surveillance found they would sign on for work on a Friday and leave their base, but instead of going to their job site they spent about 30 minutes eating a "sit in" breakfast.
The council said most of its staff worked hard but it would not tolerate wrong-doing.
The fraud team's annual 2016-17 report said staff involved had been sent informal misdemeanour letters for unauthorised work absences.
The council's head of human resources said, with the exception of breaks in the normal course of job duties and lunch breaks, workers "should not leave their place of work without prior authorisation".
The report also uncovered wrongdoings at a Swansea community waste site, where five workers were involved in allowing items, which should have been recycled, to be removed from the site by "private individuals for personal gain".
They included bags of clothing, laptops and flat screen TVs.
Open and transparent
An investigation found banned items and trade waste had been allowed to be deposited there, while some workers were smoking on site and falsifying time keeping records.
The audit committee will be told on Tuesday what sanctions were taken against those employees.
In another case, an employee was found to be carrying out physical work while on sick leave for a bad back.
The employee was asked to attend a disciplinary investigation to discuss the allegations but, prior to the hearing, they resigned.
A spokesman for Swansea council said it set up the corporate fraud team two years ago to help staff and managers ensure "the proper use of resources".
He said employees were encouraged to report concerns which are then looked into.
"We have been open and transparent about these issues and will not sweep them under the carpet," he said.
"The vast majority of our staff work hard, are conscientious and do a great job, but we will not tolerate any wrong-doing."