Woollen bollard covers stolen from Saundersfoot streets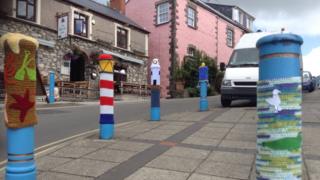 Colourful woollen bollard covers aimed at brightening up a Pembrokeshire town have been stolen.
The Little and Large Cafe yarn bombing team created the sea-themed displays and placed them on pavements in Saundersfoot.
However, members of the club said despite them being wired on, nine have been stolen in the past two weeks.
Local police community support officer Graham Kendall appealed for information.
He said: "It is a shame because the group worked really hard on knitting them, and the colourful designs brightened up the street."
Lyn Sandall of the group said they had attracted a lot of interest.
"On the scale of things this is not that important, but a lot of hard work has gone into trying to make the village a happy, cheerful place, and this happens," she added.